Genre: Fantasy, Science Fiction, Action, Adventure
Cast: Bong Revilla, Oggie Alcasid, Regine Velasquez
Director: Romy Suzara



Luckless and clumsy, Enteng is blessed with a golden heart. He is deeply in love with his sister's teacher, but this love is equaled only by his "katorpehan". He stumbles upon a magic barbell that gives him the power to turn into Capt. Barbell, a superhero dedicated to fighting for justice. As Capt. Barbell, Enteng must use his new powers to fight Lagablab, Freezy and Dagampat, three villains spreading chaos and evil. Will Capt. Barbell save the day? Will Enteng manage to charm the girl of his dreams?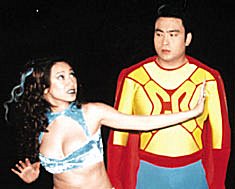 Combine parts with Fast Joiner, download it here
password: www.strictlymovies.tk