Title: Action, Comedy, Martial Art
Cast: Kou Shibasaki, Toru Nakamura, Kitty Zhang Yuqi, Takashi Okamura, Lam Chi-Chung, Tin Kai-Man, Yosuke Eguchi
Director: Katsuyuki Motohiro



Nothing will prepare you for Shaolin Girl - except perhaps a Surgeon General's Warning and the complete upending of your expectations. Some hallucinogenic drugs would help, too. A Japanese-produced spinoff to a little Hong Kong movie called Shaolin Soccer, Shaolin Girl comes with a pretty good pedigree. It has Fuji TV's Bayside Shakedown braintrust behind it - producer Chihiro Kameyama and director Katsuyuki Motohiro - plus it stars capable actors in Kou Shibasaki, Toru Nakamura, and Yosuke Eguchi. Comedian Takashi Okamura, star of the Hong Kong Cinema lovefest No Problem 2 also shows up, strengthening the film's Hong Kong-Japan connection. Finally, Shaolin Girl features appearances by two Shaolin Soccer vets, Tin Kai-Man and Lam Chi-Chung, and it bears the stamp of the man himself, Stephen Chow, as the film's executive producer.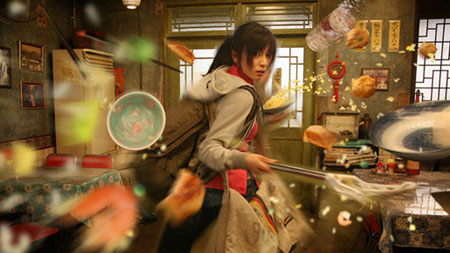 Given the crew, it's a winner, right? Well, perhaps in an alternate universe where "winning" is defined as making something so awful that it becomes compellingly watchable. Viewing Shaolin Girl is like rubbernecking at a car wreck involving 200 cars and millions of dollars in property damage; the sight is a marvel to behold, but you're gawking for all the wrong reasons. Any objective and unapologetic review of Shaolin Girl would rate it as a bad motion picture. That disappointment is magnified exponentially when you factor in obvious expectations, i.e. that it should capitalize on the supreme goodwill already created by Stephen Chow and be as funny and entertaining as Shaolin Soccer. Regrettably, it falls way short of the mark.


password: www.strictlymovies.tk